Pregnancy & Birth
Get pregnancy information you can trust. We'll help you track your pregnancy week-by-week, including how big your baby is today and how your pregnant body is changing. Consult our due date calculator to learn when your baby will arrive. We'll also help you have a healthy, happy pregnancy with our pregnancy-safe workouts and meal plans. You'll learn how to write a birth plan, and we'll tell you what to expect when it comes time to give birth.
Overview
A typical pregnancy lasts 40 weeks from the first day of your last menstrual period (LMP) to the birth of the baby. It is divided into three stages, called trimesters: first trimester, second trimester, and third trimester. The fetus undergoes many changes throughout maturation.
How to know when spotting or bleeding during pregnancy is serious
Vaginal bleeding during pregnancy is not uncommon, but it's also usually not normal. It can indicate many things, depending on whether it's heavy or light, how long it lasts, what color it is, and at what point in the pregnancy it occurs. Signs that bleeding is due to serious conditions such as miscarriage, problems with the placenta, or preterm labor, include heavy bleeding (similar to menstrual bleeding), bleeding in conjunction with cramps and/or fever, or bleeding and passing some tissue. The color of the blood is also important: Blood that's bright red is usually more worrisome than blood that's brownish.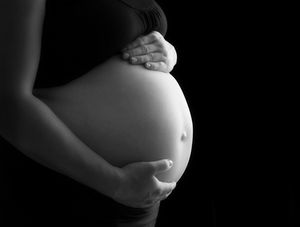 How Soon Can You Tell If You Are Pregnant?
A missed period is often the first sign that you may be pregnant, but how do you know for sure? Many women use home pregnancy tests to tell if they are pregnant; however, these tests are more likely to be accurate when used at least one week after a woman's last period. If you take the test less than 7 days before your last menstrual period, it may give you a false result. If the test is positive, it is more likely that you actually are pregnant. However, if the test is negative, there is an increased chance that the test is wrong. Your doctor can do a blood test to detect pregnancy sooner than a home pregnancy test can.
Pregnancy Weight Gain?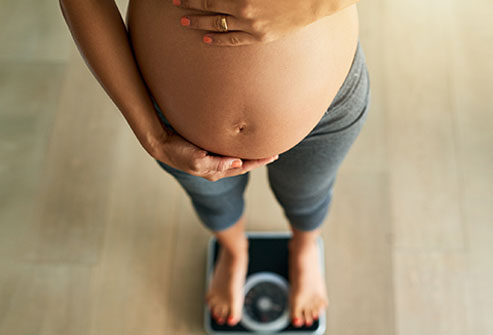 The amount of weight a woman should gain during pregnancy depends on her body mass index (BMI) prior to becoming pregnant. Women who are a normal weight should gain between 25 and 35 pounds. Women who are underweight prior to pregnancy should gain more. Women who are overweight or obese prior to pregnancy should gain less. The recommended caloric intake for a normal weight woman who exercises less than 30 minutes per week is 1,800 calories per day during the first trimester, 2,200 calories per day during the second trimester, and 2,400 calories during the third trimester