Family planning allows people to attain their desired number of children and determine the spacing of pregnancies. It is achieved through use of contraceptive methods and the treatment of infertility (this fact sheet focuses on contraception).
Benefits of family planning / contraception
Promotion of family planning – and ensuring access to preferred contraceptive methods for women and couples – is essential to securing the well-being and autonomy of women, while supporting the health and development of communities.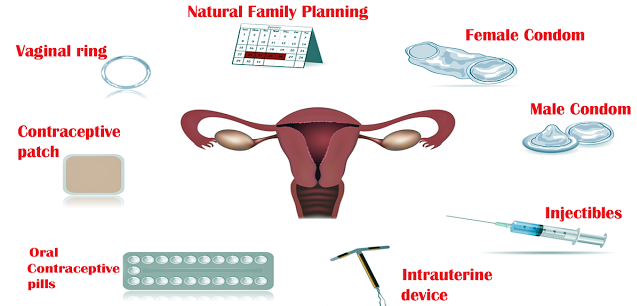 Birth control of family planning:
Withdrawal method: by this method the man pulls his penis out of the woman vagina before the ejaculation of spermatozoa occurs.
Rhythm method or safe period: this involves the calculation of safe periods for each woman. To avoid getting pregnant, a woman should not have sex with a man during the fertile days.
Use of condom (sheath): this is a rubber sheath which the man wears over the penis before sexual intercourse. When he ejaculates spermatozoa, they are collected within the condom thereby preventing them from entering into the vagina of the female.
Cap (diaphragm): this is a rubber protective cap worn by women. It is inserted into the vagina so as the prevent spermatozoa from entering the inters and into the Fallopian tube where they may bring about fertilization of the ovum.
Spermicidal cream or tablet: is one that kills spermatozoa, a woman applies such cream or tablet right inside the vagina 5-10 minutes before sexual intercourse.
Inter-uterine device (IUD): this may be a metal or plastic coil or loop that is inserted into the uterus of the woman.
Contraceptive pill: this a tablet that is taken daily by a woman. The pill contains hormones that prevent ovulation or the release of an egg from the ovary.
Injection: an injection is usually given to the woman every three or six month's intervals.
Sterilization: is done by couples who don't want more children. It is an irreversible birth control method.in other words, once it is done, one can to reverse it.
Abstinence: this when both the male and female stay way completely from having sex.