Nutrition and Exercise During Pregnancy:
During pregnancy it is important that you get the appropriate nutrients and energy needed to keep you and your baby healthy. Physical activity is also just as important when you're pregnant as at any other time of life.
Nutrition
Follow your obstetrician's advice regarding your use of prenatal vitamins. As mentioned, you should take vitamins only in the doses recommended by your doctor. Perhaps more than any other single vitamin, make sure you have an adequate intake (generally, 400 micrograms a day) of folic acid, a B vitamin that can reduce the risk of certain birth defects, such as spina bifida. Your obstetrician may recommend a daily prenatal vitamin pill, which includes not only folic acid and other vitamins, but also iron, calcium, and other minerals, and the fatty acids docosahexaenoic acid (DHA) and arachidonic acid (ARA). Fatty acids are "good" fats, and DHA in particular accumulates in the brain and eyes of the fetus, especially during the last trimester of pregnancy. These fatty acids are also found in the fat of human breast milk. Make sure your doctor knows about any other supplements you may be taking, including herbal remedies.
Eating for Two
When it comes to your diet, do some planning to ensure that you're consuming balanced meals. Make sure that they contain protein, carbohydrates, fats, vitamins, and minerals. This is no time for fad or low-calorie dieting. In fact, as a general rule, you need to consume about 300 more calories per day than you did before you became pregnant. You need these extra calories and nutrients so your baby can grow normally.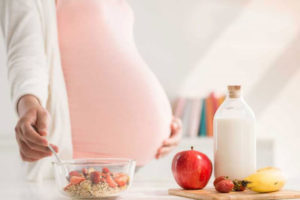 5 Foods All Pregnant Women Need
These healthy snacks will help provide plenty of important nutrients for pregnancy, including vitamic C, folic acid and calcium.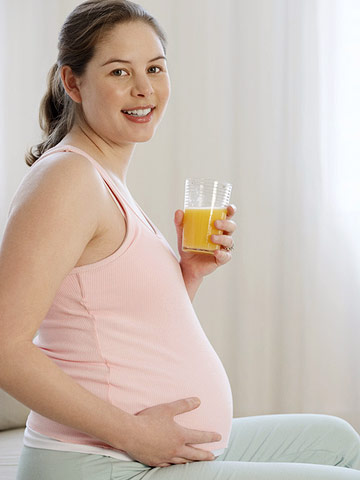 Orange juice
Not only is this juice high in vitamin C and folic acid, it's also a good source of potassium, which has been shown to help lower high blood pressure, a particular danger during pregnancy.
Yogurt
A good source of protein, yogurt has more calcium than milk and also contains active cultures that reduce the risk of yeast infections, which are more common while you're expecting. Also, some people who are lactose intolerant can tolerate yogurt.
Broccoli
Known for being a good source of calcium, this veggie is also packed with vitamin C, folate, and vitamin B6.
Lentils
Like beans, lentils are a great source of folate and are rich in iron and protein. They're also full of fiber, which can help prevent constipation and subsequent hemorrhoids.
Figs
Fresh or dried, figs have more fiber than any typical fruit or vegetable, more potassium than bananas, and plenty of calcium and iron.