A malignant tumor of the cervix, the lowermost part of the uterus. These treatments have been shown to be equally effective in treating early-stage cervical cancer. Chemoradiation (a combination of chemotherapy and radiation therapy) is generally used for women with a larger tumor or if the lymph nodes have cancer cells.
What causes cervical cancer?
Almost all cases of cervical cancer are caused by HPV. HPV is a very common virus that can be passed on through any type of sexual contact with a man or a woman. There are more than 100 types of HPV, many of which are harmless. But some types can cause abnormal changes to the cells of the cervix, which can eventually lead to cervical cancer. Two strains, HPV 16 and HPV 18, are known to be responsible for most cases of cervical cancer. They do not have any symptoms, so women will not realize they have it. But these infections are very common and most women who have them do not develop cervical cancer. Using condoms during sex offers some protection against HPV, but it cannot always prevent infection because the virus is also spread through skin-to-skin contact of the wider genital area. The HPV vaccine has been routinely offered to girls aged 12 and 13 since 2008.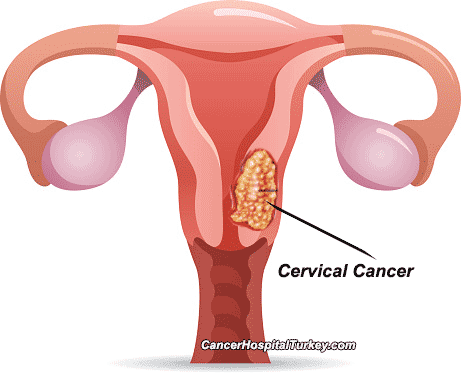 Symptoms
Blood spots or light bleeding between or following periods.
Menstrual bleeding is longer and heavier than usual.
Bleeding after intercourse, douching, or a pelvic examination
Increased vaginal discharge.
Pain during sexual intercourse.
Bleeding after menopause.
Treating cervical cancer
If cervical cancer is diagnosed at an early stage, it's usually possible to treat it using surgery.In some cases, it's possible to leave the womb in place, but it may need to be removed.The surgical procedure used to remove the womb is called a hysterectomy.Radiotherapy is another option for some women with early-stage cervical cancer.In some cases, it's used alongside surgery or chemotherapy, or both.More advanced cases of cervical cancer are usually treated using a combination of chemotherapy and radiotherapy.Some of the treatments can have significant and long-lasting side effects, including early menopause and infertility.
Complications
Some women with cervical cancer may develop complications.These can arise as a direct result of the cancer or as a side effect of treatments like radiotherapy, chemotherapy and surgery.Complications associated with cervical cancer can range from the relatively minor, like some bleeding from the vagina or having to pee frequently, to life threatening, such as severe bleeding or kidney failure.
FAQ about Cervical Cancer